Pink is no doubt a phenomenal color. It makes anyone standout in the crowd. Pink party dress is a perfect choice for a young girl's birthday. Not only for birthday parties, it can also be worn for one's prom too! It suits any skin tone but when worn on the ladies of black, the color brings out the melanin in them and makes them look pop!
Silver Footwear: Pink Party Dress
Pink party dress with silver footwear is the ultimate dream. Especially when the silver heels have tie ups. It is going to make the feet and calves of the woman look slender and delicate. It also suggests femininity. If not for the tie ups, do not hesitate to go for silver sandals.
They do just as much justice as tie ups do. Also, do not wear stockings or leggings underneath the dress as it is partywear.
White Or Baby Pink Clutches: Pink Party Dress
Like always said, clutches and purses complete the look. With pink when paired with a baby pink or creamy white clutch, the woman is going to look stunning and definitely the clutch is going to be the showstopper. Always keep clutches or purses light and small. A big purse might be ideal for an everyday look but when going for parties, keep them light and simple and they are not going to fail to give out the fancy vibes.
Jewelry: Pink Party Dress
Black or white jewelry would suit the color. Watches make anyone look classy and now that women and the generation is forgetting to wear watches, it is high time to bring them back in style and dress them up with stones and pearls or at times with leather too! Wear a heavy simple necklace if one is going for a strapless dress. A couple of hanging earrings would complete the face symmetry. Do not go overboard with the amount of jewelry that one is using to dress up. That would only make any woman look cheap and tacky.
Hair To Go With It
Keep the hair down or in a loose bun depending upon the outfit. If it is a backless dress, go for a loose messy bun and spray those flyaways to keep them in place for the entire evening. Or if it is a strapless dress, try letting the hair down with a side partition curled up. It is going to give an old Hollywood actress vibe. For more updates, visit: https://magazinestime.com/
Makeup For Pink Party Dress
As for makeup, go for medium coverage and if one is not comfortable with it, choose the coverage that you regularly go for and do not highlight eyes and lips at the same time. It is a standard rule to cancel one another out while going for a glam look. Choose a rosy pink nude for lips, add a gloss to top it off.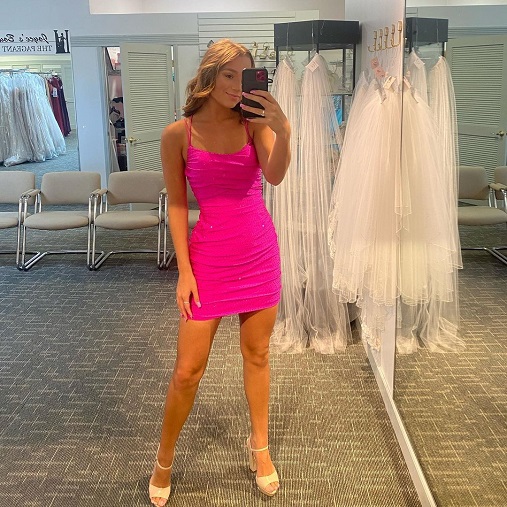 Eyeliner the lines without making them look droopy and be careful while selecting a pigmented eyeliner. A baby pink blush would set the whole makeup and never forget to powder!
Also Read: Deontay Wilder Net Worth | Esme Morgan | Jeff Hardy Net Worth