Floral Pants: Ideas
Greetings, ladies. Spring is truly a beautiful season for us. Have you ever smelled the sweet spring flowers? Let's celebrate the blossoming season with floral outfits this time. Today, I'll show you some floral pants outfit combinations. The floral pants are lovely and trendy, but they are difficult to match. If you don't do it correctly, you'll end up with an out-of-date country-girl look. So, let us take a cue from the best ideas listed below. Floral is the hottest trend for spring and summer, and we'd like to give you some tips on how to put it all together. After you've put on a pair of floral pants, keep your tops as simple as possible and avoid other prints. For a feminine look, monochromatic tops in pastel colours will work well. You can also go for a casual-chic look by wearing a denim shirt. If the weather is cool, throw on a denim jacket, which goes well with any spring outfit. Women will look flirty and fabulous when they wear a sleeveless peplum top. Now, look through the picture gallery and find the best combinations for yourself. Enjoy!


Floral Pants: Looks
Pairing floral pants with a neutral tee is the simplest way to style them. This is a cool relaxed look that can be complemented with flats or comfy heels. What you need to know is how to choose colours because floral pants can be quite daring. Take a white, grey, or black tee that is always on point, or choose one of the shades on your pants to perfectly match them. If it's cold outside, a denim jacket or chambray shirt can be useful. Try skirts or flare pants with silk, satin, or delicate floral tops.Pair cotton and linen floral tops with jeans or denim.
Unless you're wearing a matching outfit, avoid layering floral prints such as a floral top and a floral skirt. Too many floral items in one look can be overwhelming. However, as with any fashion choice, there is a way to achieve a floral-on-floral look if you are determined! However, we generally discourage going overboard with any single print. Wearing super loud accessories with floral blouses is not recommended because most floral prints are already loud and you don't want to detract from them! Take into account the size of your florals.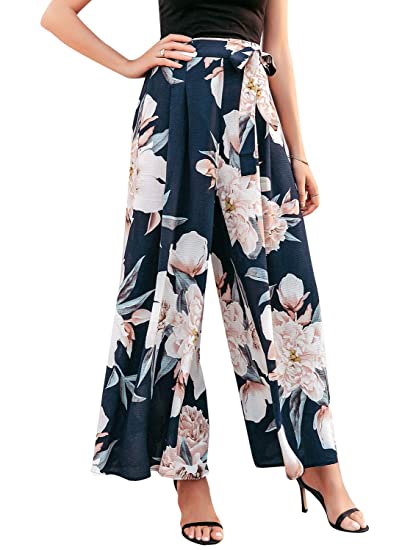 A Creative Look
Plus-sized women should avoid large print because it can be too much for their figures. We adore a chiffon blouse, but we adore a floral wrap top chiffon blouse even more. (Try saying that three times quickly!) This absolutely stunning blouse can be worn with distressed skinny jeans, mules or sandals for a fabulous fate night look you'll want to repeat. If there is ever a season to wear florals, it is unquestionably spring. We like this modern take on a classic look that incorporates darker colours to make it less traditionally spring. Try this look the next time you have a girls' day out or go out to brunch with your guy. This bright blue floral top will transport you to a summer vacation! We particularly like it with a straw hat, white denim shorts, and sandals or mules. Experiment with the accessories and have fun. With this look, you can't go wrong.
Also Read: Leopard Leggings | Mini Skirts | Pink Party Dress