Skirts are absolutely so fun! They can be paired with any blouse or top and still look stunning. Though midi skirts are taking over, mini skirts are no less. They are cute and can be considered vintage as they are hyped all over in the 60s.
Mini Plaid Skirts For The Winter
A mini skirt can also be worn in the winter. Unbelievable, right? Well, paired with the right clothing, it can provide warmth and you can still look stylish as the day you looked in the summer and spring! Choose a red plaid mini skirt that fits you perfectly at the waist. Put together an outfit with this red plaid mini skirt with a black turtleneck sweater. Carefully tuck the ends of the sweater into the skirt while being mindful about the lumps of sweater that have been tucked in at the waist. Wear a pair of black stockings to keep your precious legs warm. Now get some ankle length black polished boots to complete the look. This outstanding outfit can be worn all throughout the winter and autumn for college and some working women!
White Monochrome With A Mini Skirts
White is such a modest color. It definitely makes any woman instantly look chic and stylish. Pair a mini white skirt with a plain white shirt. Tuck one end of the shirt into the skirt to enhance the waist and not hide it behind the fabric of the shirt. To make the outfit look more monochromatic, opt for white framed sunglasses. All of a sudden this makes any woman look more put together even though they did a couple of steps to dress up.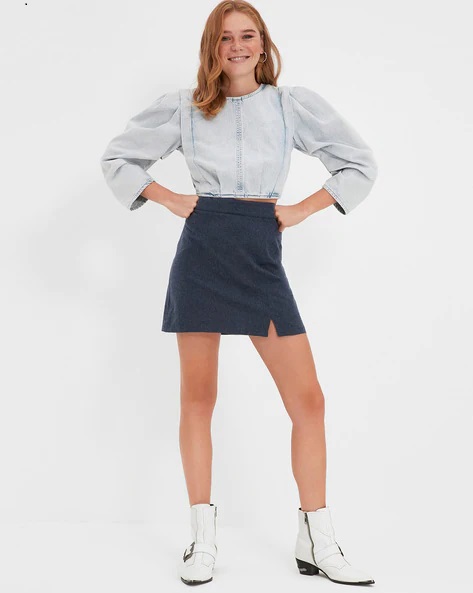 As for shoes, choose white sneakers or white tie on heels depending upon where you are going and what you are doing. All in all, it is important to be comfortable! Despite the fact that the outfit is monochrome, it is not a crime to add in a bit of color and spice it up a little. Wear some hanging colorful earrings to balance out the white. One can wear this outfit to shopping, casual dates and even to a beach! For more updates, visit: https://blondewizard.com/
White Mini Skirt With A Beige Crop Top
Who does not want to be comfortable? Especially in summer? Here is a look that you can put together to rock the summer while being comfortable at the same time. Choose a white mini skirt with no pattern of any fabric that you are comfortable with. Pair it with a beige crop top of the neckline square. You can go for pretty much any neckline but a square neckline suits the better. The outfit must be making you look like a plain jane by now. But don't you worry and trust the process. Here comes the jazz in a tan color! Find more about aesthetic clinic.
Get a tan hobo bag matching with a tan belt. A belt changes the look of an outfit. It accentuates the waist and makes any woman look feminine. To top it off, wear some white or beige ballerina flats to complete the look! This outfit can look really good when worn while touristing!
Also Read: Deontay Wilder Net Worth | Esme Morgan | Leva Bates | Neon Purple Aesthetic