Trends from the early 2000s, such as tinsel hair, claw clips, and press-on nails, have all made a triumphant return to the beauty space, particularly the latter. In the past, we were mostly limited to short French, floral, or extremely square nails, but now we have a plethora of options.
Not only are these fake nails nearly identical to expensive salon gel manicures, but they also come in a variety of shapes, sizes, and thicknesses to experiment with. Furthermore, the glue quality has improved, which means that today's fake nails last much longer than the press-on nails of yesteryear.
However, there are preventative measures you can take to keep your nails in good condition. Dr. Stern recommends applying a coat of clear nail polish before applying the nail polish to minimise damage. "Polish can absolutely be protective," she says, "and it is usually the removal process that causes dehydration and potential damage." She suggests weakening the adhesive with warm soapy water or cuticle oil before removing your press-on nails. She also advises against using acetone-based nail polish removers, as they can dehydrate and weaken your nails.
Glam nails by Olive & June: Glamnetic Nails
A press-on manicure is still a manicure, and it should be treated accordingly. So, if you want to elevate your entire experience, pick up Olive & June's The Press-On System, which includes everything you need in a cute carry-on pouch.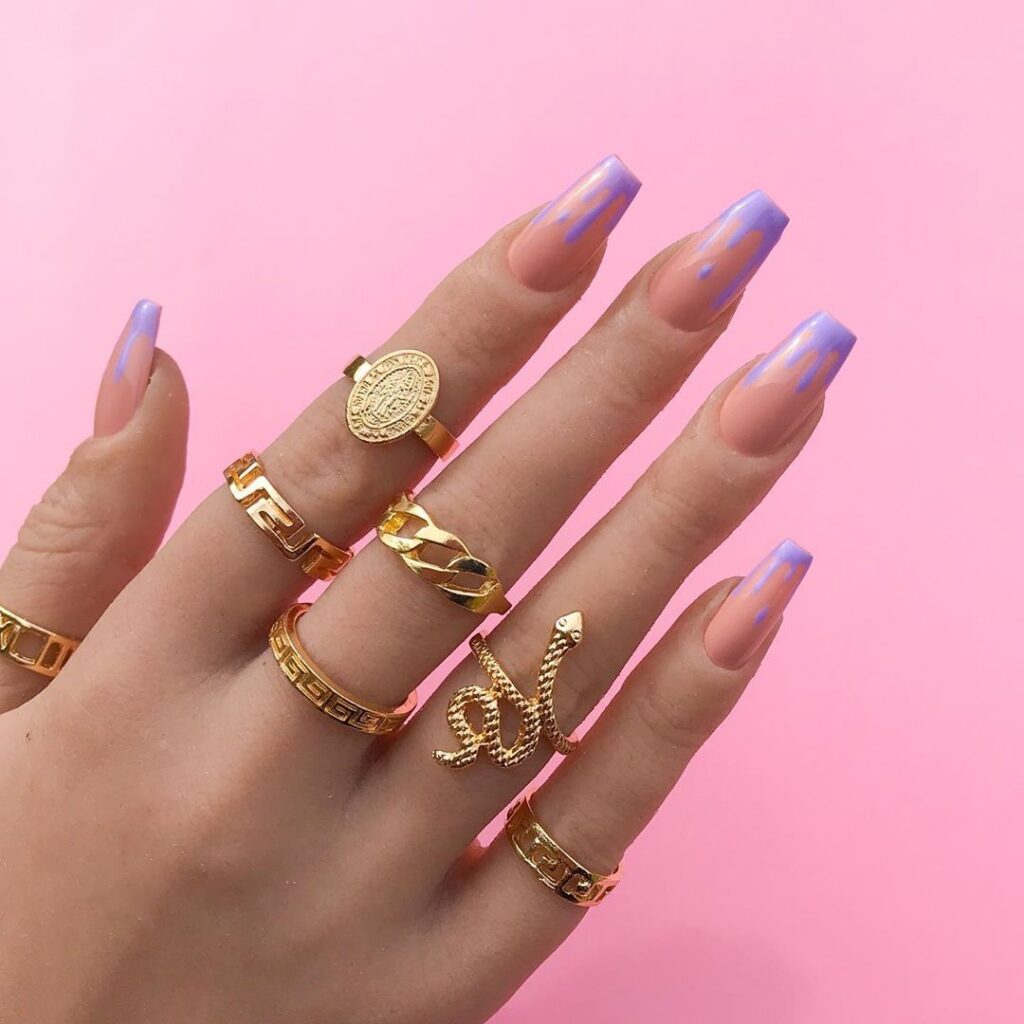 Glamnetic Nails: Creative Touch
Do you want to create cool negative-space nail art but don't know how? You have two choices: Go to a nail salon or use Glamnetic's Press-On Nails to create them in the comfort of your own home. The popular beauty brand, best known for its magnetic false lashes, also has a line of press-ons in a variety of fun and trendy patterns, shapes, and sizes, such as the mismatched, negative-space set above, aptly named Wild Card.
Magic Press Dashing Diva
Dashing Diva's Magic Press nails are one of our favourite fake nails because they are so simple to apply. There is no need for nail glue; simply peel off the plastic covering the adhesive, press the fake nail over your actual nail after prep, and voilà.
When it comes to nail art, the French tip is as classic as it gets, but the PaintLab French Tip Press-On Gel Nail Set reinvents the look with cool-toned mint tips. These false nails are made of gel polish, which gives them a glossy, chip-free finish that can last up to two weeks.
Matching your nails to your outfit, makeup, or accessory is a simple way to improve your appearance. PopSockets' take on the matchy-matchy trend incorporates fake nails.
Clutch Nails carries instant manicure sets in chrome, glitter, glossy, and matte finishes. Alexandra Tonks launched the brand in 2017 with four different lengths of press-on nails. It sells extremely amusing designs such as the coffin-shaped Hot Girl Stunner set and the floral-inspired Flower Square set. Check out the oval-shaped, glossy Breakfast at Tiffany's set for a classic robin blue. Each set includes two dozen nails, a nail file, and glue.
Also Read: Short Black Nails |  Floral Pants | Leopard Leggings