Devin Haney vs Jorge Linares was indeed an epic battle between the young and the veteran boxer. The fight for the WBC lightweight happened on 29 May 2021 in Mandalay Bay Events Center. It was Matchroom's first boxing event as a lead promoter in the fight capital of the world, Las Vegas, Nevada, United States.
In many eyes, it was the first big step for Devin who did not face any major name before as he is one of the most avoided fighters of the lightweight division. There are talks that Vasiliy Lomachenko became the franchise champion for not facing Devin Haney. It was not that Lomachenko was avoiding Devin but at that time, it was indeed a high risk and low reward situation. The fight was the last roll of Linares, who is a three division world champion. Let us take a look at everything to know about this fight.
Devin Haney vs Jorge Linares: First Big Step for WBC champion
Devin Haney's victory against Yuriorkis Gamboa did not look very well on 7 November 2020. It was a 12-round contest – and Devin won it as a unanimous decision. As Gamboa was way off his form, a knockout was expected from Devin – but he did able to get that. In September 2019, Devin became the WBC interim lightweight champion after beating Russia's Zaur Abdullaev. He did become the mandatory for then-champion Lomachenko. However, Lomachenko's prmoters Top Rank requested WBC to make the Ukrainian the franchise champion so he does not need to face the mandatory.
As Lomachenko became the franchise champion, Devin was promoted as the WBC lightweight champion. It was not a good situation for Devin as he wanted to win the title instead of getting a conformation on an email. As WBA, WBO and IBF do not agree with WB franchise champion, Devin got the belt that can make one the undisputed champion. He then defended his title against Alfredo Santiago and Yuriorkis Gamboa – but these were not top names. Despite Matchroom was ready to pay millions to face Davin to any top name, there were not many fighters who wanted to face him. Hence, a challenge against Jorge Linares became the litmus test for Davin.
Also Know about – Neon red aesthetic
Devin Haney Vs Jorge Linares: Last role of the dice for lightweight legend
Jorge Linares did lose five times before facing (vs) Devin Haney, however, he did have 47 wins on his record too, making him a three-weight world champion. He is the first boxer who dropped Vasiliy Lomachenko in the professional ranks. Once, he even hold the Ring Lightweight title. It shows how great of boxer he is – hence – the fight against Devin became an aim for Linares. He knew that beating this bright young prospect would help him to become the world champion for the fourth time and end the career on high. Also, it would have helped him to get more big fights before saying goodbye to the sport of boxing as a professional.
Devin Haney vs Jorge Linares: Pre-Fight Build Up
Devin Haney vs Jorge Linares was all about will the young American champion be able to take the next step or will the power of Linares be too good for the WBC champion. Even Linares said on many interviews that he is feeling in best shape of his life despite not having any tune up fight before facing this task. Before facing Devin, Linares' last fight was against Carlos Morales on 14 February 2020, a month before the COVID-19 hit the whole world in style. Devin had to also talk about Teofimo Lopez, who beat Lomachenko and held ever belt other than WBC as other governing bodies don't agree with the franchise belt. Hence, Devin was saying that Lopez is not undisputed as he does not hold the WBC lightweight champion.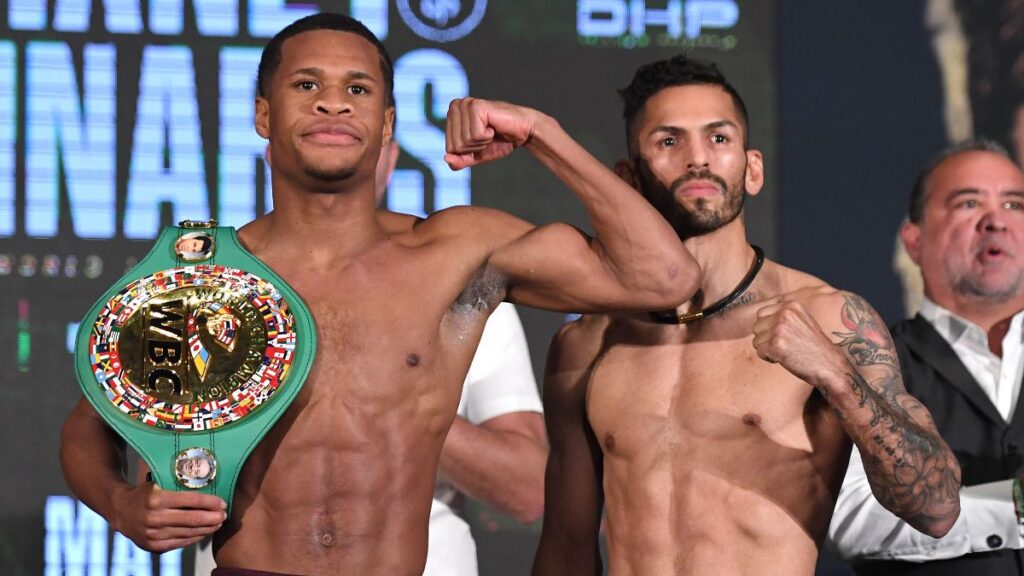 More About the Fight
So, it did create a lot of tension and a task for Devin, which he took very well. For the first time in his pro career, English boxing trainer Ben Davison joined the corner of Devin. It is not usual to see a British trainer joining a top American boxer as in the history, indeed the other way around had happened. It also shows that how great of a boxing brain is Ben Davison, who helped Tyson Fury to make comeback in style and had also helped Billy Joe Saunders to become the two-time world champion.
He is famous for making Josh Taylor the undisputed light-welterweight champion. So, it was great addition for his father and trainer Bill Haney. His father even said that he is planning to retire as a boxing trainer so his son can pick any other trainer. However, Devin only wanted to see his father leading his corner with a great mind like Davison giving his take to make it a good match-up.  For more updates, visit: https://kallesauerland.com/
The Fight
Devin Haney vs Jorge Linares was indeed a great fight. Due to the COVID-19 pandemic, it was not a full house. Devin looked sharp in the first six rounds and it was a one-sided contest. Linares did not manage to even touch Devin. However, in the later rounds, Devin got hit by Linares.
It looked it might be hard for him to see the rest of the rounds. However, Devin played smart and clinched Linares to kill the time. His home fans did not like it. However, it was what great boxers do to win fights from hard situations. Devin was doing a great job. His shots did look solid and he was showing his great skills. However, thinking about how good he would look impacted his shot selection a bit. It allowed Linares to show his power. After the fight, many fighters criticized Devin – but he did win the fight without facing much disturbance. The three judges scored the card – 116-112, 116-112, 115-113 in Devin's favor.
Devin Haney vs Jorge Linares on Instagram | Klay Thompson Net Worth | Draymond Green Net Worth | Deontay Wilder Net Worth