Engagement and wedding jewelry are core to the peace and satisfaction of the bride. Therefore, you must focus on how to make the entire celebrations leading to your married life a success.
Family and friends are satisfied when the bride looks gorgeous and appealing. However, your choices of jewelry can make or mar this satisfaction.
Still, a lot goes into making the occasion a special one. Jewelry is just one of them. To take things to the next level, you must understand the task and know how to handle it.
As such, this article is a guide to making your engagement memorable. So let's get into it.
Making it elegant with Engagement Rings
Your engagement is a season for you to stand before the world to declare your choice for a life partner. No one is left in doubt when they see the bride's jewelry choices. Carefully selected, captivating, and gorgeous-looking engagement rings reveal the bride.
Talking bold steps into a married life are marked by sparkles of diamond gems on your ring.
Rocking a dazzling diamond ring on your finger is a fond memory, especially in the presence of your peers. Your innate passion for being celebrated by others is helped by using diamond sets.
You need to show your lifelong love and adventure with a man who is defined by a diamond ring. The best way to delight yourself in your engagement and wedding days is to adorn yourself with diamonds.
Solitaire rings are good for proposals because of their iconic features. The sparkles that the lone diamond gem gives endear the bride to onlookers. Its elegance is classic, and it makes the bride quite attractive.
The heart-cut solitaire symbolizes love and faithfulness. It gives excitement and courage to the bride. Choosing a solitaire engagement ring proves that you want to marry that man. This also can bring back the images of the engagement ceremony to mind.
Prioritize Jewelry Sets
One way to leave a lasting impression on your partner is by gifting them wedding sets. Jewelry sets come with bangles, bracelets, earrings, pendants, and chains. These sets help give a complete look, making for a splendid engagement celebration.
One important thing is to have matching jewelry in your jewelry set. For instance, if you are getting a diamond engagement ring, your jewelry set should be diamonds too. This includes getting diamond stud earrings, diamond tennis bracelets, and diamond pendants.
Still, couples can shop together to make proper choices of diamond jewelry. You can also get custom jewelry. This could include special inscriptions, designs, etc. That way, you get a sense of uniqueness as you own a one-of-one set.
Go Engagement Shopping
Make your engagement and wedding celebrations memorable. Have fun with each other shopping together. There are a good number of online shops that you can engage in from the comfort of your home.
While going out is fun, browning through endless catalogs together can be more fun. You may window shop by visiting some online diamond shops. This is how you may check out what you want.
However, before purchasing, seek guidance on choices and prices from experts in this field. For example, when buying diamond wedding sets, you can choose from many diamond styles, cuts, and shapes. Also, your search for affordable items is a lot easier with consultations.
Set a Theme
If you and your partner are into engagement parties, now is the best time to start planning one. And what better way to plan an engagement party than selecting the perfect theme?
Yes, the theme of your party must resonate with your and your partner's wants. If both of you are into traveling, then an adventure theme will work best. Same way quiet themes might be best if you're introverts.
Overall, the goal is to create a space where you and your partner can have a great time. That is, with your family and friends in attendance too.
Schedule a Romantic Dinner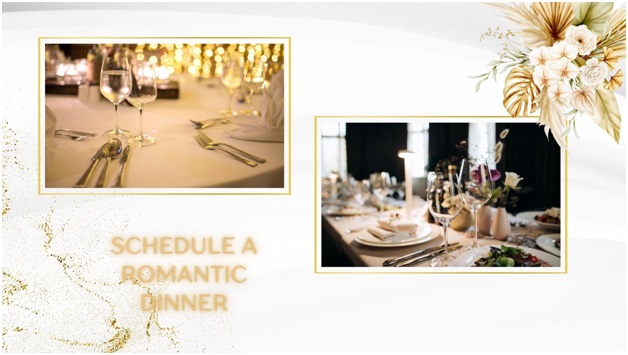 Among all the engagement sentiments, a romantic dinner can go a long way to make the day memorable. A well-planned dinner with candlelight, flowers, good music, and food shows how much you truly care.
Keying in the little details would be best when making our dinner preparations. However, you need to consider your partner's interest when planning a romantic dinner. This could mean setting up a grand evening at a fancy restaurant or an intimate dinner in your home.
Overall, the goal is to ensure you have a great time breaking bread, sharing wine, and enjoying a heartfelt conversation.
Lab-Grown Diamonds
Diamonds are rare gems, but not all diamond gems are natural or mined out of the earth. A lot of the gems we have for engagement rings are lab-created.
One most important reason for lab-grown diamonds is to supplement the shortfall in the supply of highly rare natural diamonds.
Another reason why opting for lab-grown diamonds is viable is due to their price. In budgeting for a diamond engagement and wedding ring, a couple needs to be certain of the type of diamond ring they can afford.
Lab-grown diamonds are a good substitute for natural diamond gems for couples working with a budget. That is because they can save as much as 50% on costs.
You'll also find that they come in varying shapes, cuts, and settings. This makes finding a suitable piece much easier.
Conclusion
While some people may want to downplay engagement and marriage, it is a big deal, and you should treat it as such. That means doing everything possible to ensure you and your partner have an engagement to remember.
Regardless, it would be wise to make some consultations to ensure you are doing things right. From budgeting to choosing the right jewelry, nothing is off the table.
Everything should be in place, whether you are getting jewelry, spending time together, or celebrating with family and friends. Your engagement should be a fun experience.